Back to all posts
Posted on
Online Learning Start Up information & Schedule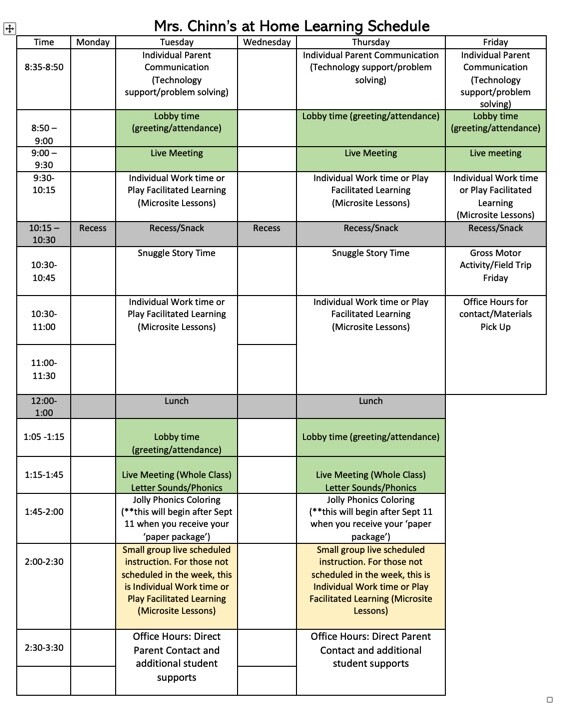 Mrs. Chinn's at Home Learning Information 
During this first week we will be learning how to access the digital platforms that our class will be using to share and learn together.  We will be using Microsoft Teams for all of our LIVE lessons.  You should have been given a username and password from the school division via email.  Please contact me via email if you are needing assistance logging into Teams.  Please refer to my previous emails and our blog post on my microsite (see below) for instructions.  
For our written lessons they will be posted Monday, Wednesday and Friday's on our Kindergarten Microsite that can be found here: https://home.lethsd.ab.ca/kindergarten/kindergarten-team-website  Since we are a Tuesday/Thursday/ every other Friday class,  please know to check that site on the Mon/Wed for your lessons.   I will also post greetings on my own blog for our specific class each Tuesday or as needed.  There you'll find information for the week and things specifically for us!   
https://home.lethsd.ab.ca/kindergarten/laurie-chinn 
Our program will follow many of the same types of activities that you would do as if you were in my physical classroom, but I'm excited that you'll be able to experience these together as a family!   Setting up a designated learning space for your child will be something that will be very beneficial.   This space should have a chair, a flat surface for the computer and a space for writing.   Please do what works for your and your child.  The kitchen table can be a great space for this too!  
Supplies: 
Blank scrap paper

 

Pencil

 

Wax crayons

 

Pencil crayons or felts

 
Scissors

 

Glue stick

 

Six sided

dice

 

Deck of cards (later in month)

 

Dry erase marker (expo brand erases the best)

 
Building materials (like

lego

,

duplo

, blocks, Tupperware or recycling items)

 

A container of 20 small items for counting (ex. beans, buttons, pebbles, shells, jewels etc. as long as they don't roll off the table) 

 

Playdoh

 

Craft materials (feathers, glitter,

pipecleaners

etc

)

 
Our Schedule:  
Below is our General Schedule for our class. Please note that things may change as each week passes based on the needs of the students and as we progress through our content.
All LIVE whole group classes are highlighted in green.  I will do my best to keep these times consistent each week.  The length of the lessons will depend on the content and time of year to make sure they are developmentally appropriate (for 4 and 5 year olds). 
Those  times in yellow/orange are slotted times for small groups or individual support as needed.   
Individual Work Time (Those blocks in white). 
These are suggested times for you to assist with your child's assignments.   These assignments could come from 2 places at this time:  
The kindergarten Microsite: 

 
https://home.lethsd.ab.ca/kindergarten/kindergarten-team-website   
From our own class LIVE lesson, your child's paper package or our classroom blog

 
https://home.lethsd.ab.ca/kindergarten/laurie-chinn 
As we get more comfortable with our schedule, please note that I hope to add in external sites such as (epic books, seesaw,

splashmath

etc

). I'm hoping for mid Oct to begin these. 

 
Snuggle Story Time: - these are pre-recorded stories from various sources.  Grab a stuffy, a cozy blanket and listen together to a story. You may access this at your own discretion and can be found on the Kindergarten team website.  Read the title of the story, make predictions with your child, pause the story and ask questions throughout the story.  
Office Hours – During these times I will try to make myself available to you for questions or concerns that you're having.  Please reach out via email first and I'll do my best to get back to you!  
Materials pick up – This will be a slotted time for you to come pick up materials from Coalbanks Elementary.  There will be a bin outside the front door on Friday's.  I will send an announcement on our blog that week and through email if there are items that need to be picked up.  Please note that our first pick up will be Friday Sept.11 between 9am - 11:30am.  
How to hand in assignments:  
Please send digital pictures, or short videos to my email laurie.chinn@lethsd.ab.ca I'm hoping to create portfolios within Teams soon if the format is something I will find user friendly for you.  Microsite assignments are due to me by the end of the week they are assigned.  Please note that it is important that I see where your child is at. All children at this age are at different learning levels.  It does not mean that things are right or wrong and so very important that I have an accurate assessment of your child's growth.    
Thank you so much for all of your support to make learning the best it can be for your child.   Play is an important part of early childhood development and I encourage you to engage in play with your child when you're not working on assignments.   Practice describing what your child is doing out loud to them, ask questions, role play, practice verbal turn taking and build on your child's interests and vocabulary.   Your child will begin to feel more confident as they involve themselves in simple play.  These activities are crucial for their cognitive and social emotional well-being.  Children at this age have such a natural drive to learn. If we can capture that curiosity in everyday events at home, turn them into learning moments, your child will grow and develop essential skills for life!  Thank you for having such an important role in their kindergarten year!  I'm excited to get started with you!  
Here are a few videos on the importance of play if you're interested: