Back to all posts
Posted on
Pumpkin, pumpkin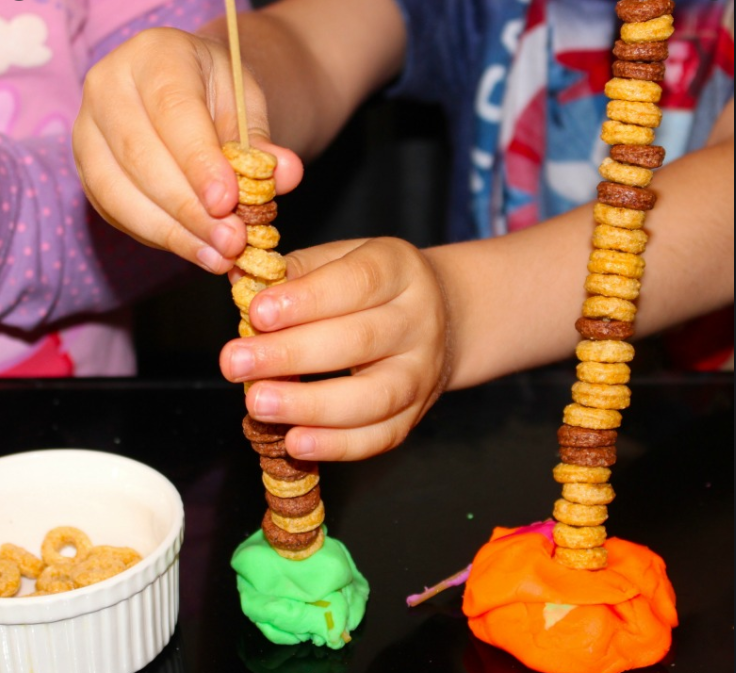 Pumpkin, Pumpkin
Let's have one last bit of Halloween fun! 
I noticed Franklin measuring his pumpkin at the beginning of the story. Look around your house for some pumpkins. If you do not have any pumpkins, grab a few round objects from around your house and pretend they are pumpkins (like balls or even bowls). Next you will need a measuring tape. A soft sewing measuring tape will work best but you can also use a metal construction measuring tape. 
Find the widest point on your pumpkin and wrap the tape around. Have an adult help you read the number that comes around to match up with 0. On a post it note, record how big your pumpkin is (in inches or cm) and stick it to your pumpkin. Next, measure your other pumpkins.
Now that you have your data, let's get to work. 
1. Order your pumpkins from smallest width to largest width. 
2. Let's build a graph (see the picture at the top of this post): Use playdough to hold a piece of spaghetti or BBQ skewers stick upright. Then use Cheerios to count up the the number your pumpkin measured around. Do this for each pumpkin you measured. What do you notice about each stack? What is similar or different about them? *you can also lay the Cheerios on the table making sure all your starting Cheerios line up.
3. Draw me a picture: Draw a picture of your pumpkins and your graph. Would you like to include any words in your picture?
Here are some extra Halloween fun videos:
The Little Old Lady Who Wasn't Afraid of Anything
Creepy Carrots:
The Counting Pumpkins Song:
Virtual Pumpkin Carving:
https://onlinepumpkincarving.com/ 
STARFALL:
If you downloaded the Starfall App during the Team lessons this week you will notice a little pumpkin icon on the home page. Click on it for an additional Halloween activity.